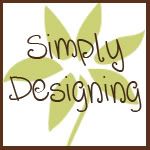 Hello!! I am so excited to be guest blogging here at Sumo's Sweet Stuff!
I am Ashley, the face and voice behind
Simply Designing
! I am new to blogland but am loving every minute of it! I am an interior designer and a floral designer. I own my own business. I also love to dabble in crafts, baby / child items, sewing, baking, cake decorating and a variety of other things. I love finding ways to make my life more SIMPLE!
I enjoy keeping busy and I have a list a mile long of "projects" I want to do. I love posting about my "projects" on my
blog
!
But I really love love LOVE it when I get new followers, when I get comments, when I am featured and when I get to guest blog! (So make me smile today please! After you read my guest post here, come and check out my
blog
! Become a follower and/or leave a comment! I can't tell you how happy those simple things make me!)
Oh! And while you are at it, I recently opened my
Etsy shop
! Come and check that out
here
!
Ok. Now. On to the GOOD stuff!
I am so excited to be guest posting at Sumo's Sweet Stuff on Wednesday: recipe day! I recently tried out this new recipe and am excited to share it with you!
When I made these, I was pregnant. Very pregnant. 38 weeks pregnant. And I had had a very difficult pregnancy and was on strict bedrest for several months, so I was ready to be done being pregnant!
I had the idea to bring goodies to my ob-gyn's office to perhaps "bribe" him into helping things along, or inducing me...or anything really! Some people try walking or castor oil to help induce pregnancy, I bribe my ob-gyn with goodies!
However, my ob-gyn is diabetic, and not being diabetic myself or having anyone in my family with diabetes, I had no clue where to begin! So I went searching for a recipe that was both diabetic-friendly and that didn't include me needing to waddle to the grocery store to pick up ingredients.
Enter...
Chocolate Almond Meringues
!!!
To be honest, I had never made meringues. They scared me slightly. But I had always wanted to attempt to make them so this gave me the perfect opportunity to try them. Turns out, they are so EASY to make!
(As a side note, our little baby boy decided to make an early arrival on Monday morning, only a few hours before my ob-gyn apt where I had planned on bringing these as bribery. The fabulous nurses at the hospital where I delivered enjoyed the meringues instead!)
Chocolate Almond Meringues
(diabetic-friendly)
Ingredients:


1/2 cup sugar (divided: 2 tablespoons and then the remaining portion)


1/4 cup ground almonds


1 tablespoon unsweetened cocoa


1 teaspoon cornstarch


2 egg whites


1/8 teaspoon cream of tartar


1/2 teaspoon vanilla




Preheat oven to 250 degrees F


Line a baking sheet with foil and spray with non-stick spray


In a small bowl, mix:




In a stainless or glass bowl (I used my Kitchen Aid
), beat egg whites until frothy
Add cream of tartar to eggs and beat on high until soft peaks form
Gradually add in vanilla and remaining sugar portion
Beat until stiff and shiny
Gently fold cocoa mixture into meringue mixture
I used a pastry bag
and a large tip and piped the meringues onto the foil-lined baking sheet. You can also use a spoon and just drop small mounds onto the baking sheet.
Bake at 250 degrees F for 40 minutes. Meringues will be dry and slightly browned.
Cool completely
Store in an air tight container (if you can't help eating them all right away :-)

Mine turned out SOOOO yummy! They were very airy and light and fluffy, but had a slightly chewy center. Oh yum! (And they were so simple, quick and easy to make!)
Yield: about 2.5 dozen cookies
Serving Size: 1 cookie
Calories: 18
Sodium: 7 mg
Cholesterol: 0 mg
Fat: 0.3 g
Carbohydrates: 4 g
Exchanges: 1/4 bread or starch
Original post
here
.
Ok. And I can't resist sharing a few more super yummy recipes with you!
I. Love. Marshmallows.
I love marshmallows in hot chocolate, dipped in chocolate fondue or straight out of the bag. I don't know why, but marshmallows are just so yummy!
So I decided to try my hand at making homemade marshmallows. And what surprised me most was how soft and fluffy these marshmallows were! Yum yum yum!
Check out the full post and step by step instructions on how to make Homemade Marshmallows
HERE
!
Yum. Caramel Popcorn! This recipe is so EASY and so QUICK to make. Even my hubby has made it without my help a few times! And, it makes the soft gooey kind of caramel popcorn, not the hard kind. So it's not good for making popcorn balls with, but it is incredibly yummy to eat!
Check out the full post and step by step instructions on how to make Carmel Popcorn
HERE
!
Several years ago, my husband and I were lucky enough to be able to spend some time in Greece. While we were there we were introduced to these marvelous things - chocolate covered Oreo cookies. Yum yum yum!
I know these ones look a bit St. Patrick's Day-ish (they were part of my
17 Days of St. Patrick
), but you could use any color of chocolate for these to make them festive or not.
Check out the full post and step by step instructions on how to make Chocolate Covered Oreos
HERE
!
Rice Crispy Treats. Yum! Can you really ever go wrong making Rice Crispy Treats?
I found this NEW rice crispy treat recipe that I had never seen before so I wanted to try it out. I know, you are thinking, a new recipe? No such thing! Well this recipe has an extra ingredient added in that makes normal rice crispy treats a little extra special, and even harder to resist eating the whole pan!
Alright alright. These are definitely a bit St. Patrick's Day-ish. But just don't use the shamrock cookie cutter or the green food coloring and you have yourself a wonderfully yummy treat!
Check out the full post and step by step instructions on how to make the extra yummy, Special Ingredient Rice Crispy Treats
HERE
!
Well, that is all for now wonderful Sumo's Sweet Stuff readers! Thank you so much for letting me come and share my ideas with you. And come and check out my
blog
if you get a moment.
Happy Designing!