I've seen a few different gift box decorating ideas, and I decided that this would be a cheap, easy way to add a little decor to our bedroom. We have a small townhouse, and often, our bedroom ends up as the dumping grounds for things because I'd rather have my living room look nicer since that's where people are when they come over! I figured that covering some gift boxes in some fabric would give them a nicer, more finished look, and could pass for some nice decorations in our bedroom.
- gift boxes (I found the huge ones at Wal-Mart on super after Christmas clearance, and got the rest out of my stash)
You'll want to un-fold your box. I used packing tape to tape the box folds open so that it wasn't trying to fold in on me while I was measuring (and later while putting the fabric on!)
I'm sure there are lots of ways you could measure your fabric. I'm not very exact, and didn't just measure the fabric using the dimensions of the box. For my first box, I just put it on the table, and lined up one edge to the edge of the box.
Then on the other edge, I just creased the fold, and cut along it. I did the same for the other two edges as well.
Once I had the fabric cut out, I folded it in like I was wrapping a gift, and pinned it. It's okay if your edges are too long. You can always trim them later after you glue!
For my second big box, I did it a little differently. I turned the fabric to the wrong side, and kind of figured out where my edges should be, and used chalk to mark where I needed to cut.
I don't know that there was one way better than another; just find what works best for you!
I did this for all five of my boxes, and pinned them all so I could see what they were going to look like.
Next, you'll need to cut out the patterns you want to have on your canvas' - if you are putting a pattern or design on there. If you like your fabric plain, you could always just leave them as is! I found some patterns and designs I liked on other blogs, one of my daughter's shirts, scrapbook paper, and the fabric pattern on my diaper bag. Just look around!
I used my boxes to determine the size of my patterns, cut them out, but didn't glue them on yet - just laid them on to see how they were going to look.
Now it's time to start mod podging!
I turned my fabric with the wrong side facing up, and box upside down as well, all lined up. I lathered up one side of the box with mod podge.
Then I wrapped the fabric around and used my trusty Pampered Chef pan scraper to smooth out the fabric. I did this for all of the flat surfaces of the box. You're going to have fabric hanging around on two of your edges.
For this part, I again mod podged the box, and put as much fabric down as I could. Then I used my hot glue gun to glue the remaining fabric down on to the box - again folding it like I was wrapping a package. You can either trim up loose ends, or fold the fabric under and hot glue it to the inside of the box.
Next I used mod podge to put the design on to the box.
Do this for all of your boxes! I'm not going to lie - the big boxes were a big pain!
But totally worth it because I love how these turned out!
Then get your trusty husband to hang them up for you and you've got yourself some new, unique, cheap home decor! (Sorry for no picture of them hanging up - I'm embarrassed to admit that we actually haven't gotten around to it quite yet!)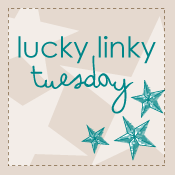 Show and Tell @ Blue Cricket Design