My mom and I were at this awesome fabric store here in Utah, Material Girls, and we saw a picture on a pattern book for a onesie with wings on it. We thought that we could probably figure out how to do that without buying an entire pattern book.
- onesie (or a t-shirt would work too, for older kids)
- sewing machine/accessories
The first thing I did was a Google image search for butterfly wing outlines. I picked out the one that I liked and printed it. Then I used it to freehand the wing a bit bigger.
Next I traced it onto a folded piece of paper so that I could give myself a little bit of a body to attach it to the onesie.
Then pin it onto your fabric (I doubled mine up) and cut it out. This will give you double fabric of the entire wing set.
Next pin the pattern to your interfacing and cut it out. After you've cut it out, trim around it again, going in about a quarter inch.
Iron on the interfacing to the wrong side of one of your pieces of fabric.
Pin both wrong sides together, and do a quarter inch hem around the edges.
I then frayed my edges to mess them up a little bit.
All that's left is to sew the wings on to your onesie! Don't look too closely at mine - I had a little mishap so it's a little crooked!
Now put them on the cutest baby body you can find and you've got yourself a photo op!
This onesie is size 0-3 months. I think next time I would do a smaller set of wings for that small of a onesie so that they would stay up on their own better when the baby is lying on their tummy. The bigger size of wings, like I used here, is good for babies that are sitting up, because then the wings will naturally stay out like they are in the picture that I am holding the onesie up.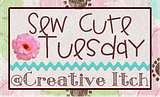 Blue Cricket Design