Yesterday I shared my new charm necklace. I love the look of these necklaces, and wanted to make one that was personalized for me. It is super easy and didn't take long at all!
- ring with hook clasp (I found this in the jewelry making section at the craft store)
- jump rings (I got a pack with various sizes in it)
- charms - whatever you like!
- straight earring pins (I don't really know what they are called! Also found in the jewelry making section!)
Take your bead(s) and put them on the straight pins. I found some at Michael's that had little rhinestones at the end - had to have them!
Then cut off the excess of the pin, leaving enough room to loop it around so that it will hang on a jump ring.
I did this with some clear beads, but also with beads that are my girls' birthstone colors.
Then I strung them on jump rings, along with initials for my girls' names.
I put everything on jump rings, using more for the charms I wanted to be longer. (You'll notice I didn't use all of the charms I started with. It got to be looking like too much!)
Then put them on your ring.
And put the ring on your chain.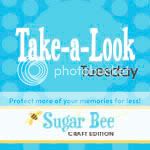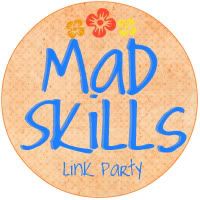 Show and Tell with Blue Cricket Design