Want to become a sponsor? Find out how
here
.
I first became acquainted with Whimsy Couture when I saw a picture of a dress made from one of their patterns on another site. It was pretty much the cutest thing I've ever seen, and I became an instant follower and customer!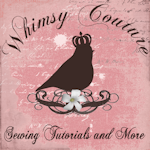 Whimsy Couture has a blog and a shop where you can find all sorts of goodness!
Whimsy Couture's blog is filled with tutorials, sales on their patterns, giveaways, and features.
I could get lost for hours browsing around Whimsy Couture's shop. I've actually purchased a few patterns from Whimsy Couture, and I have been so impressed with the easy to follow directions (remember, I've only been sewing since January!) and great pictures. The patterns have made it really easy for my girls to look fashionable in their homemade clothing!
Whimsy Couture emails patterns, which I really love. It's so much easier to have the file stored on my computer, rather than finding somewhere to store a hard copy. But if email's not your thing, Whimsy Couture will mail you a physical copy!
Whimsy Couture has a wide variety of patterns available, from jackets to skirts to dresses to rompers!
What little girl wouldn't look adorable wearing one of these dresses?
I love this Mommy and Me outfit. I'm thinking I could do this with my two girls!
Right now, Whimsy Couture is offering a Fourth of July special where if you buy two patterns, you get two free. Four patterns for the price of two? It doesn't get much better than that! You better get shopping!
Be sure to go check out Whimsy Couture now. As a customer, I would highly recommend checking out their selection of fabulous patterns!