Wow, wasn't Creative Chick Parade Week fun? I hope you had as much fun as I did, and got a lot of new ideas!
We need to announce three more winners from the giveaways!
Congrats! You've got 72 hours to contact me at sumossweetstuff@gmail.com
And the TWO winners of a pattern of choice from Little Lizard King are:
Congrats ladies! You have 72 hours to contact me at sumossweetstuff@gmail.com
Let's get back on track with Market Yourself Monday.
Link up your tutorials, recipes, giveaways, shops - everything is welcome! Well, everything family friendly that is! All I ask in return is that you please link back here either on your sidebar or in your post. It's nice, right?
But before you get linking, I get to share with you one of my favorite blogging ladies! We've become cyber buddies over email, and she's just the sweetest!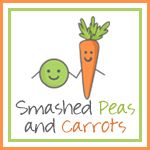 Hi everyone! Can, I just say a BIG 'HELLO' to you all!!! I am super excited to be blog swapping with Sumo! We have become good bloggy friends through our recent pregnancies and I just think she is great, don't you?
My name is Maggie, that's me here:
I run the empire known as
Smashed Peas and Carrots
...well, actually it's just my blog (
and Etsy Shop where I sell lovely goods for Momma and Children
) but one day it'll be an empire or that's what I'd like to think in my head ;)
I write about lots of different things on my blog but mainly it's a diary of my life as a momma. I have three little ones 3 years and under (Yes. my hubby and I are crazy!). My littles ones are Noah, Penelope and baby Eloise who just turned 2 months old!! One thing about me is that I LOVE to teach and I actually used to teach Gross Anatomy Cadaver Labs back in the day (I know it sounds weird and gross but it really was a super fun job) so the inner teacher in me loves tutorials!!! I have lots of tutorials on my blog...sewing projects, craft projects, projects for the little ones in your life and of course lots of recipes that are kid-approved and super yummy.
Here are some of my favorite projects and tutorials:
I have a tutorial for these super stylin'
Glazed Fabric Button Rings
I made out of fabric scraps. I just love how they are so customizable to the person or outfit. Plus, the glaze keeps the fabric waterproof so they won't get all icky and wonky after washing your hands all day long...a momma's dream come true...ok, maybe just mine :)
I am having a love affair with my Crockpot, oooh I just can't get enough of it! I have tons of recipes which may or may not involve the crockpot on my blog. My family especially enjoyed this one for
Banana Bread
...in a crockpot, how cool is that!?!
I also have a big thing for making felt foods, I think they are the coolest kids' toys out there. I have lots of tutorials on my blog for making your own. Some fun ones are the felt
Cinnamon Roll
and
Blueberry Muffin
, seen above in my Breakfast Basket gift for a friend's daughter.
Well that was fun! Many thanks Sumo for letting me come by your blog today to meet all your super cool readers! I hope I see some of you over at my place,
Smashed Peas and Carrots
, soon I always love to meet new friends!!