Just a little reminder that today is the last day to take
25% off
your order from my
shop
using the
code SIMPLE25
! Stock up for baby showers, pick out some stocking stuffers, and grab a thing or two for yourself!
As I told you, my friend from
Just Our Style
and I made these necklaces over the weekend, while the kiddos were napping and our husbands were watching the BYU/Utah game. So simple and so quick - seriously, this is a great go-to gift!
What you need:
- chain
- jump rings
- clasp
- tulle
- pearl beads
Start off by cutting a strip of tulle. You'll want it to be plenty wide so that you can wrap it around the beads.
Tie a knot in the middle.
Place your first bead next to the knot, wrap it with tulle, and tie another knot right next to it.
Continue doing this...you can see the progression here. Make it as long as you like!
When you get to where you want it to end, you'll want to either make a little loop like I've shown here, or just cut it off.
Loop your jump ring through the loop. If you've just cut the tulle, then you can just string your jump ring through the tulle (does that make sense?) That's the great thing about tulle; it's going to hold it in place!
Attach your chain to both sides, using jump rings. Then add a clasp to one end of your chain.
Tie a cute little tulle bow on one side. Fabulous!
For a different version, you could make a satin flower and glue that to one side, and do two strings of pearls like my friend did.
If you make one, I'd love to see it!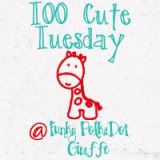 Blue Cricket Design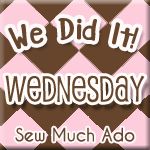 Tip Junkie