Happy Monday!
How was your weekend?
We spent ours in Vegas - kid free! - so that's why things got a little quiet around here. I wasn't on the internet all.weekend.long.
And I have to admit, it was kinda nice.
But we're back, and I'm back, and there's just a few things to take care of real quick like!
I don't know if any of you saw, but I was over at
Oopsey Daisy
on Friday, sharing some fun activities to do centered around a book called Piggies. My girls and I had a fun
Piggie playdate
; I hope you'll go check it out! Alison is hosting a Summer Camp Series, and each Friday a different blogger shares a fun idea centered around a children's book!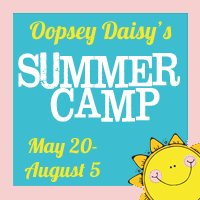 Also, I was going to post the winner to the
Crafty Cupcake Girl
giveaway, and I wasn't able to because I didn't have access to internet all weekend long! So, the winner is:
Congrats! Please email me at sumossweetstuff@gmail.com to claim your prize!
One more thing before we get this party started.
Tomorrow starts
Silhouette
's promotion for this month! It's a killer deal, and I'll show you a couple of things I got to make using some
Silhouette
products!
Now get linking!