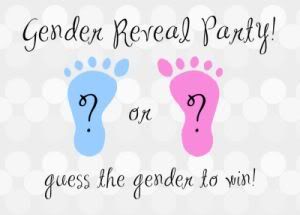 Have you all been dying to know what we're having?
Okay, probably not as much as I have been!
We had our ultrasound this morning, and it was so fabulous to see our sweet babe on the screen. I just love having ultrasounds and getting a peek inside.
So, I told you all that I thought this baby was a boy.
And I also told you that I thought both of my girls were boys.
Looks like I'm sticking with my trend, because baby number three is a

GIRL

!
We're calling it the triple threat.
If you look in this picture, she kind of looks like she's laughing at us. She kept opening and closing her mouth during the ultrasound; you can even see her tongue! I think she was just laughing at us because we have no idea what we're in for having three girls in a row!
My two year old was totally right when she kept insisting that it was not a boy baby, but a girl baby. She has more intuition than I do!
Now on to the fun stuff - winners!
** $25 gift certificate to A.Okay Designs **
Nic and Janey
** $25 gift certificate to Flamingo Toes **
Andrea
** 3 Pack of Sewing E-Books of your choice from Whimsy Couture **
kleinmanfamily
** 2 Patterns of Choice from Little Lizard King **
Jill Wilkins
** $10 gift certificate to Love Stitched **
Lindsay @ Artsy-Fartsy Mama
** $35 Gift Certificate to Aunt Peg's Jewelry **
Nayomee
** $25 Gift Certificate to Belle Rose Designs **
Emily
** Cookbook and Apron from Aunt Peg's Recipe Box **
Renee Simmons
** Nursing Cover from Smashed Peas & Carrots **
Lil' Luna
CONGRATS to all of the winners!
Please email me at sumossweetstuff@gmail.com to claim your prize! I'll give you until Saturday to get in touch with me before I choose a new winner. Please be sure to include your name, email address, and which giveaway you won in your email - and title your email gender reveal winner.
THANK YOU to those who sponsored giveaways for my big reveal! Please take a minute to click around to their shops and sites! They are all linked above and on the original giveaway post!