Happy Monday!
How was your Thanksgiving weekend?
Any of you brave the Black Friday crowds?
That's never really been my thing, and of course, having a brand new baby, it really wasn't in the cards for me! Maybe one day I'll try my hand at it....
But tomorrow is Cyber Monday, so I'm sure plenty of us will be finding some deals online! I love shopping online and having things delivered to my door. It's always fun to get packages, right?
Speaking of, I just want to share a couple of things with you before we get the party going.
If you aren't signed up with
Pick Your Plum
, you want to be!
Pick Your Plum
posts amazing deals on crafting supplies every day, and they always have crazy good prices. Tomorrow they are going to be running a Cyber Monday sale with NINE items all on sale at once for amazing prices. And the best part? Flat rate shipping! Holla! The sale goes live at 6:00 a.m. MST tomorrow, so be sure to
sign on
and take advantage!
Also, the Silhouette sale is still going through today. You can get $50 off a CAMEO by going to the
secret page here
. And you can enjoy 40% off other items in the shop (excluding gift/download cards and subscriptions)
here
. Just use the code SUMO to get those deals!
I don't have anything to share with you today, forgive me? I've just been enjoying snuggling my sweet little baby. I can't believe she is already two weeks old! But don't worry, even though I've been taking it easy, I've got a month long of fabulous guest posters starting this week that will knock your socks off!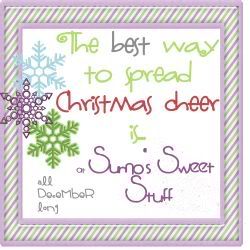 Now it's time to start partying! Link up your crafts, tutorials, recipes, giveaways, shops - it's all welcome here!