Hello, everyone! My name is Amy, and my blogging home is called Positively Splendid. I am so thrilled to be taking part in Summer's Christmas series while she snuggles her sweet new baby!
My goal is for my blog to be a haven of crafting and DIY inspiration, and a place where creative people of all skill levels can come and feel right at home. On any given day, you might find me crafting, sewing, or cooking up a storm. I would love for you to pop by and say hello!
Today I'm going to share a quick and easy project that is not only a perfect way to dress up your table for holiday entertaining, but it also doubles as a thoughtful gift! These Pine Cone Place Card Ornaments will let holiday dinner guests know exactly their place at the table, and they can take them home once the party is over to hang on their tree.

For this project, you will need...

Pine cones

Spray paint primer

Metallic silver spray paint

Small baubles: ornaments, bells, etc.

Ribbon

Hot glue

step 1 / Spray your pine cone with primer and allow it to dry completely before spraying with your silver paint. When your paint is dry, gather your supplies to assemble your ornament.
step 2
/ Cut an 18-inch length of ribbon, and tie a knot at the center. Slip your tag over one of the tails and slide it to the center of the ribbon so it touches the center knot. Slip an ornament and/or bell over the same tail, and then add another bauble to the other side, as well. Tie your ribbon in a nice bow. Pretty!
step 3
/ Tie another length of narrow ribbon to the top of your pine cone, forming a loop for hanging your ornament, as shown. Use a dab of hot glue to adhere your assembled bow embellishment to the top of your pine cone.

These are so simple to put together, but they make such a statement, don't you think?
A huge thanks to Summer for having me over today. Y'all are welcome to stop by
Positively Splendid
any time!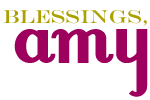 **********
Amy is the queen of color and class, don't you think? These would be such a neat addition to any holiday dinner, and you could totally customize to match your decor.