Hey there all you Sumo's Sweet Stuff readers! I absolutely adore Summer and am so happy for her and her cute little Harper.

I'm Tam from Sew Dang Cute Crafts.

If you visit my site, you will find tutorials and projects that are mostly DIY and sewing. I've been remodeling/redecorating my house, so most of my projects have been related to that, but I do venture out in other areas – like paper crafting. Pretty much I just love to create!

Here are a few other Christmas projects you'll find on my blog.

(Click on pictures to be taken to tutorial).

A couple of months ago, one of my friends brought me the yummiest cookies – Soft Ginger Snap Cookies!

I'm not a huge fan of gingerbread or molasses cookies, so I haven't ever made them with my kids. However, with this recipe under my belt, we have added another delicious tradition to our holiday festivities!

The taste of ginger and molasses is subtle and the cookie itself is soft, both facts make this cookie oh so good!

(May even be the perfect treat to leave out for Santa)

Soft Ginger Snaps

Beat well:

- 3/4 cup shortening

- 3/4 cup margarine

- 2 cups sugar

- 2 eggs

- 1/4 cup molasses

Add:

- 2 tsp cinnamon

- 2 tsp ginger

- 2 tsp ground cloves

- 2 tsp baking soda

- 1/4 tsp salt

- 4 scant cups flour

Roll into balls and place on ungreased cookie sheet. Bake at 375 degrees 10-12 minutes.

Cool 5 minutes, then drizzle icing on top.

Icing:

1 cup powdered sugar

1 tsp vanilla

water to thin glaze to desired consistency

Go ahead, try them out! You'll thank me!!!

Thanks for having me Summer and Merry Christmas everyone!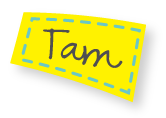 **********
Yum! Those look delicious! I think I'm going to have to give those a try!