Since I didn't get my tutorial project done today, I figured instead I'd share with you some things I'm thinking of doing for my daughter's upcoming birthday party. Then you can all chime in with suggestions or applause. Or both.
Thank goodness for Pinterest is all I have to say! It is a plethora of ideas, and I'm getting really excited for this party. (How is the Remster almost two? That was one fast year!)
** If you are going to pin any of these ideas, please click to the original source before you pin! **
The colors I'm using for her party are hot pink, lime green, and turquoise. Mostly I decided on this combo when I found some dollar wrapping paper at Target. Don't you match your wrapping paper to your party decor?
For decor, I've been buying up ribbon to make a lovely banner behind the popcorn bar like this one. Hers is actually fabric, but I think the ribbon will work just as well.
I also want to do a balloon wall like this to take pictures in front of.
I'll probably, maybe, make some other sort of banner with Remi's name on it. Maybe.
For favors, I got these little
takeout boxes
from Oriental Trading in the three party colors. They are much tinier than I was expecting, but that just means people will be getting a little Mother Goose popcorn ball instead of a bigger one. And frankly, people might be popcorned out anyway and thank me for that. I may make some sort of vinyl decal to stick on each of them. Lucy wants in on the party prep.
And then, of course, there is the popcorn.
I stashed a bag of Valentine's M&M's to make this popcorn - the pink will be perfect!
This cinnamon bear popcorn definitely needs to be involved.
Snickers popcorn? How can that be bad?
This candied popcorn would probably be a hit with all the kids. Plus, it adds some color!
I've been wanting to make this S'mores popcorn for awhile. Now I have an excuse.
Chocolate and peanut butter popcorn? Okay, I will eat you. Did I say eat? I meant devour.
Some of our more health conscious friends (or maybe those who have overdosed on sugary popcorn) might like this trail mix popcorn.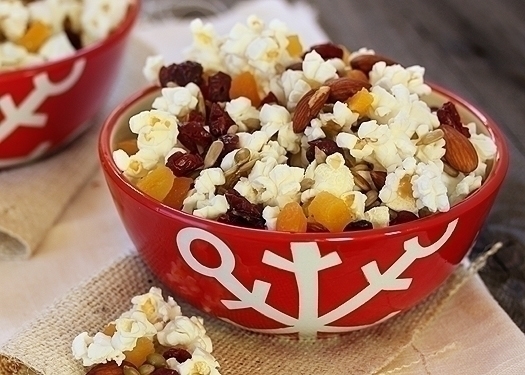 And we may want to include something savory, like this herbed garlic parmesan popcorn.
And of course, there must be cupcakes. Popcorn cupcakes. I think the kids will love these!
We'll also be serving the mini cans of pop out of buckets of ice.
Okay, what am I missing? Any suggestions? Recipes? Tips? Praise?
Well, I guess you can save the praise for after the party is over and it's a huge success. I can wait.