Hi! I'm Charlene. I'm delighted to be guesting today at Sumo's Sweet Stuff! I blog at A Pinch of Joy about everything related to eat healthy, do it yourself, live well, spend wisely, have fun – and more. Wheels and our son Bytes share the adventures at Chez Charlene – sometimes a little reluctantly but always enthusiastically when it comes to taste testing. It's a busy life seasoned every day with a pinch of joy and I love to share with anyone who stops by! Come on over anytime!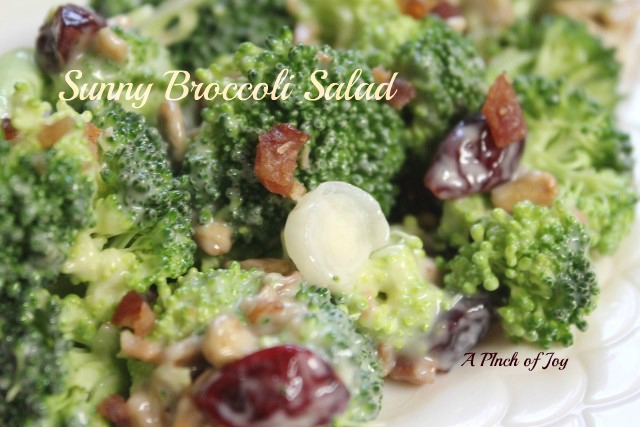 This recipe comes from a wonderful cook in Missouri. I led a group of volunteers, 10 adults and 21 teens, to Ste. Genevieve, Missouri where we did repair following a flood. The days were long, hot and sweaty, and everyone worked hard. Millie had a fantastic meal waiting for us each night when we returned to the church basement where we were staying. When I saw her mixing up this salad one afternoon, I thought "uh-oh, those kids will never eat this." They did and came back for more. It is that good!
Millie gave me the recipe and a piece of advice. Approaching her eighth decade of life, her days were amazingly productive. She told me: slow and steady – don't ever rush. You never get things done right and you just wear yourself out. Just know what you need to get done during the day and keep moving that direction. That motto is as valuable as the broccoli salad!
Confession: Real bacon, freshly crisped, is definitely best. However, I may think I have a week's worth of menus and ingredients ready to go, then a work schedule changes and it is two weeks before I get back on track with the cooking. Fuzzy bacon that didn't get used in time – not good. So I keep pre packaged bacon on hand for times when life is a scramble, ready to measure out as needed. Never any blue fuzz. Another money saving tip: julienne the thinner parts of the broccoli stem to add to the salad. The thick parts are tough and coarse, but the smaller parts are tender and tasty. You can also add ¼ cup shredded carrot (for Thanksgiving) or diced red pepper (for Christmas) to create a colorful salad for a special occasion.
Sunny Broccoli Salad
2 cups fresh broccoli – approx 1 medium head
3 bacon strips, cooked and crumbled
1 green onion, thinly sliced
3 Tablespoons golden raisins or craisins
1 Tablespoon salted sunflower seeds
Dressing
1/3 cup olive oil mayonnaise
4 teaspoons sugar
2 teaspoons white vinegar
Break florets apart and/or slice broccoli into small pieces. Combine the broccoli, bacon, onion, raisins and sunflower kernels in a serving bowl. In a small mixing bowl, combine the dressing ingredients; stir until smooth. Pour over broccoli mixture and toss gently.Cover and refrigerate for at least 2 hours before serving, stirring occasionally. For printable copy,
click here
. Thank you, Sumo, for letting me guest today!!
**********
Love this! And who doesn't love bacon? This would be great to take to your get togethers!