So, I'm sure you've all seen the statement necklaces all over – Pinterest, daily deals sites, boutiques. I thought my jewelry collection needed some statement necklace action.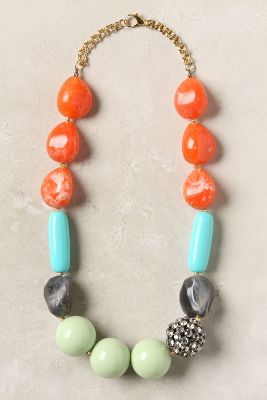 It isn't available anymore, so I don't know what the price was, but you can be sure it was something outrageous that I would never even consider spending. So what's a girl to do? Make her own, of course!


After a quick trip to the bead store, and many dollars saved, I was ready to go.


Here's what you need:
- beads!
- wire
- chain
- crimping pliers
- clasp
- crimp beads


I clearly have way too many beads shown here. So I started just playing around with how I wanted my necklace to look, laying out different combos without stringing them. This was my winning combo!


I strung the beads on a long piece of wire, using smaller silver beads in between each large bead.


Once I had my beads the way I wanted them, I held up the wire to my neck to figure out where I wanted it to hang. I took some chain to cover the difference from where the beads ended up to where I wanted the clasp to be. Use your pliers to open up a link on the chain.


Add a lobster clasp, and close the link back up.


(Sorry this next picture is so blurry! I think Santa needs to bring me a big girl camera for Christmas this year!)


Put a crimp bead on your wire, then put the wire through one end of your chain. Loop the wire around, back through the crimp bead, and crimp it down.


Repeat on the other side and you've got yourself a beautiful new necklace!


Seriously, I wasn't kidding when I said I might be in love with it. Isn't it pretty?


This was a breeze to put together! I think it literally took me about 15 minutes, and really, only that long because I was playing around with different bead combos!


Though I kept mine just one strand. Less for little grabby baby hands to latch on to.


Are you going to make some new statement necklaces?


What are some of your favorite color combinations?