This is a Sponsored post written by me on behalf of NEOSPORIN® ESSENTIALS™ for SocialSpark. All opinions are 100% mine.
Chances are all of us either suffer from eczema or know someone who does. Or both. 
Four out of five people in our family have severly dry skin. Our red head is the only one who ended up with beautiful, supple skin - the rest of us are all in a constant battle against dry skin and eczema. 
Eczema is a chronic inflammatory skin condition. It is commonly characterized by dry, itchy skin and a visible skin rash. When skin is not providing the protection barrier that it needs, irritants are able to reach the sensitive layers beneath and cause more flare ups. 
My oldest daughter has always severly suffered from eczema. She had her first dermatologist appointment at the ripe age of four months old. This is what it looked like on her.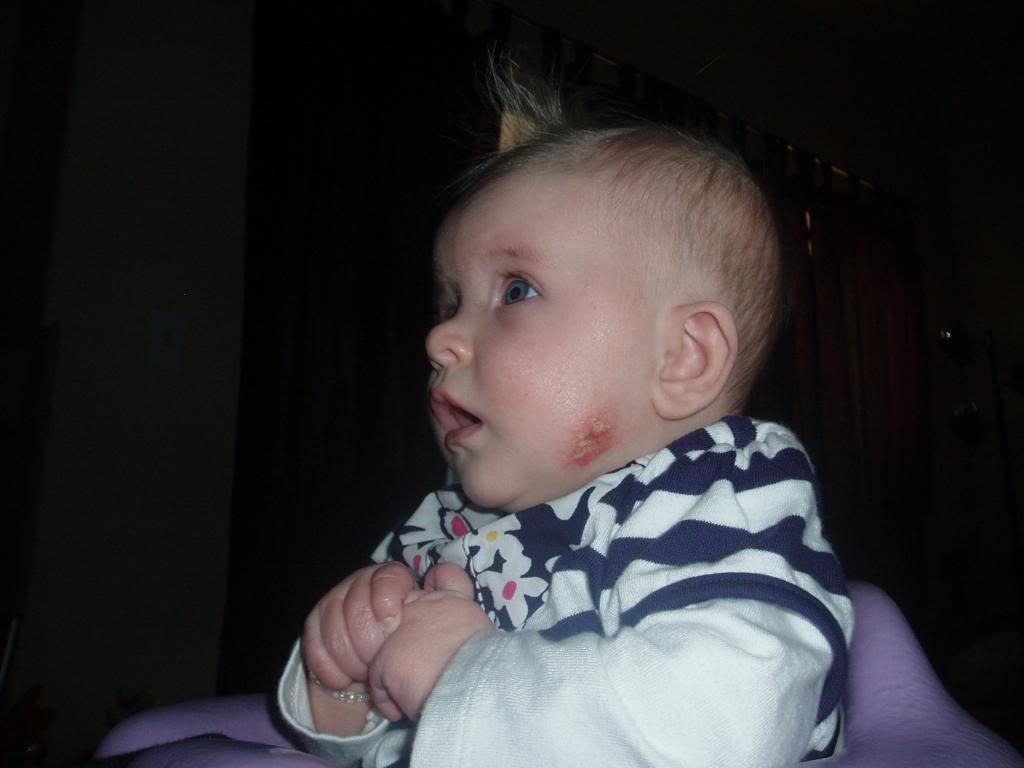 Sad, I know. Not right for a poor baby! Dry, itchy, red, and inflamed? Looks like eczema to me!
Even now, she still suffers from super dry skin. She gets patches that feel like sandpaper, and the insides of her pants are often covered in flakes of sloughed off skin. My baby doesn't have it quite so bad, but she's following in the same direction with dryness! 
Typically, you will find dry patches in children on the face, around the eyes, insides of elbows, and backs of knees. Unless you're our kid, and there's no place safe! 
We are always investing in the more expensive, thick creams to try to stay ahead of her dry skin. Most regular grade lotions don't seem to touch her eczema. It can get expensive fast, especially in the winter when her skin is worse!
And we're not alone! Studies show that eczema typically affects 10-20% of children and 1-3% of adults. Seventy percent of cases in children start before they are five years old (my oldest just barely turned four!) and 60% of infants who experience eczema will continue to show signs through adulthood. Guess we are in for the long haul!
In the fall, seasonal allergies can be the culprit of eczema flare ups. Some good ways to stay on top of eczema due to allergies are to discuss getting on an antihistamine with your doctor, and of course, regular bathing and moisturzing. 
Winter is when we battle eczema the most, with the dry weather outside and forced heat inside. When going outside, some good suggestions are to keep whatever skin you can warm and protected. Any skin that can't be covered up should have a thick, protective moisturzier on to combat the wind. Again, regular bathing and moisturizing go a long way, and it can also be beneficial to have a humidifier in the bedrooms to keep moisture in the air.
NEOSPORIN® ESSENTIALS™ has a solution for all of us who deal with eczema in our families!
NEOSPORIN® ESSENTIALS™ has a daily moisturizing cream that has been proven to show improvements in skin within three days of use. It is fragrance free, which is good for sensitive skin, and also steroid free; this is a great alternative to prescriptions which often contain steroids and can't be used long term. 
Another product by NEOSPORIN® ESSENTIALS™ is a daily body wash. The body wash contains gentle moisturizers that help provide non-drying cleansing. It is fragrance free and soap free, and does not contain antibiotics, making it gentle enough for every day use.
The last part of this skincare solution is NEOSPORIN® ESSENTIALS™ anti itch cream. This cream does containt hydrocortisone, which helps to provide quick relief to the flare ups of dry skin, while also restoring the skin. 
These products sound amazing to me, and you can bet this dry skin family will be trying them out this winter!
Visit NEOSPORIN® ESSENTIALS™ to learn more about the products for yourself!