Sewing, it's kind of my thing. So anytime I am given the opportunity to try out a new pattern, I jump at the chance. And it was no different when Kate from
See Kate Sew
offered me the chance to make a dress using her
Zig Zag Dress pattern
.
Kate originally revealed this look recently in the Project Run & Play all star season, true to name, in a chevron print. I loved it when I first saw it, and was even more thrilled to be given the opportunity to try out the pattern.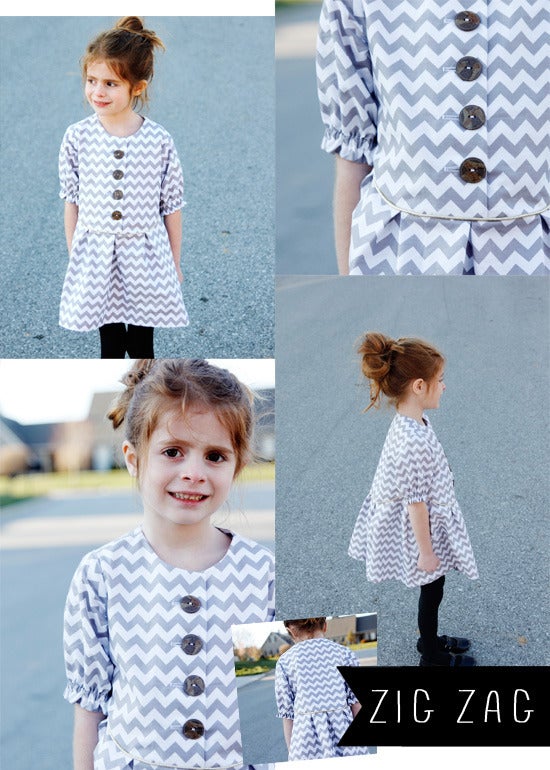 This pattern forced me to try something new for my sewing: piping! I've never sewn with piping before, and I was a little apprehensive to use it. But it was not a big deal at all! What was I so scared of?
The piping, pleats, and buttons are all sweet details of this dress. I think they all add a little something extra to the aesthetics of the dress. And one of my sewing secrets is that I really love making buttonholes! I also love the curve of where the bodice and the skirt meet.
Another thing I really like about this pattern is the shape of the dress. It has a definite shape to it, but still remains loose and flowy, which are almost requirements for my always dancing girls!
The pattern instructions are thorough, and easy to follow. The dress really came together easily. I'm seriously in love with this dress, and can't wait to make two more for my other two gals! And in case you love the fabric and buttons as much as I do, I got them both at
Hobby Lobby
!
If you want to see some other talented ladies and their Zig Zag dresses, be sure to check out the schedule below. I'm loving all of the different looks so far! And if you're ready to get sewing, you can check out the Zig Zag Dress Pattern
here
.