One great thing about being a blogger is all of the amazing people you get to rub shoulders with. If you follow many sewing blogs, then you for sure know Lindsay from
The Cottage Mama
. I've been fortunate enough to get to know Lindsay online, but then to even get to meet her in person this past winter. I'm sure she's never forgotten her ride in my sweet gold minivan. Not only does Lindsay write and sell patterns, she also has a blog –
The Cottage Home
– where she blogs about sewing, cooking, and every day life. Her blog is full of beautiful photography, and you can't help but be happy when you are visiting.
Lindsay is doing a blog tour of some of her newly release PDF sewing patterns, and I was lucky enough to be asked to join in.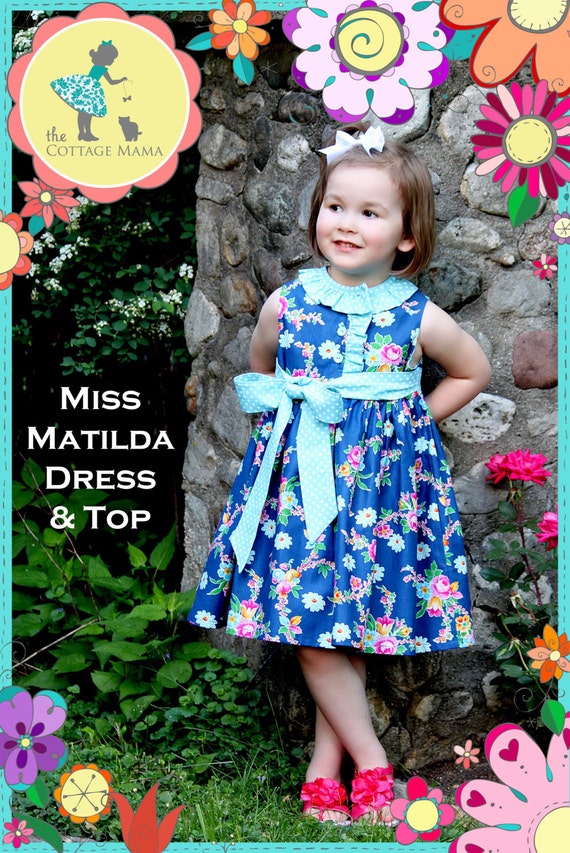 Lindsay's patterns are so well written. The directions are clear and concise, and are accompanied by lots of pictures to guide you. Each pattern boasts a glossary of sewing terms – in case they are new to you – and various options for making the pattern suite you.
I love the details on both of these pieces. The ruffles, the buttons, the sash; all of these really help create the overall look that is high in cuteness factor!
Seeing them just after I had sewn them made me excited, but that was nothing compared to how I felt once I got these on Harper's little bod.
Now, let's just remember that Harper is 20 months old, and getting her to do anything for a picture is close to impossible. I should maybe have thought about that before I decided who to sew this outfit up for first! I tried bribing her with a sucker.
That was about as good as it got for her standing there for me. I was basically following her around the house, snapping pictures as I could. I really love the fit of the pants. In the pattern, Lindsay warns that they are a narrow fit, and that it is best to measure who you are sewing for. I didn't measure Harper, but just decided to go up to a size 2 on the pants for her (instead of 18 month) and for her that was perfect; and she is on the smaller side.
The top is just too adorable for words. The skirt part of it is so full, and I just love it! It accentuates the fitted part of the bodice, and the ruffles, sash, and buttons just complete the look.
These patterns are just wonderful; I loved that I could easily mix and match prints like I like to do.
I am so grateful for the opportunity to be a part of this tour; I couldn't be happier with how this outfit turned out! Be sure to check out the schedule below to see other people's interpretations of Lindsay's wonderful patterns at
The Cottage Mama
.